I've just finished reading J.K Rowling's new book, The Casual Vacancy. My first impression is that although it is different from the Harry Potter series, being that there is no magic involved and no supernatural themes, it still has her style of writing in it- a carefully planned and well researched story.
But having said that, there are similarities- the story takes place in a fictitious town called Pagford, and it is also a tale of growing up, at least for some of the characters. For those of you who are unaware of the storyline, here is the synopsis:
When Barry Fairbrother dies in his early forties, the town of Pagford is left in shock. Pagford is, seemingly, an English idyll, with a cobbled market square and an ancient abbey, but what lies behind the pretty facade is a town at war. Rich at war with poor, teenagers at war with their parents, wives at war with their husbands, teachers at war with their pupils... Pagford is not what it first seems. And the empty seat left by Barry on the parish council soon becomes the catalyst for the biggest war the town has yet seen. Who will triumph in an election fraught with passion, duplicity and unexpected revelations?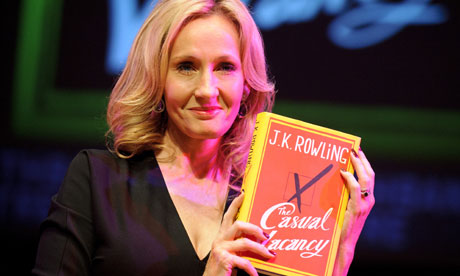 At the start, I must say I was left quite confused, as the pace of the story was quite fast- it seemed as if we were moving between characters and storylines too quickly and I could not differentiate between the characters. But this is also where I think you can see J.K Rowling's talent- very quickly, the characters are differentiated and all have their own story (some longer and more detailed than others) and I found that I was quickly familiarised with the characters.
The plot was simple enough- it's a tale about small town politics and how seemingly perfect exteriors hide some very dark and flawed interiors (yes, it's Desperate Housewives-ish). I can tell why it has been labelled a novel for adults- not just because of all the swearing and sexual content, but also because even though it's a simple storyline, I found myself having to concentrate completely to be able to keep up with it; if I weren't I actually had to flip back to reread a certain part to be able to grasp what was happening.
And it really got me hooked in the later parts as the secrets began coming out and everything started unravelling. The ending, though, wasn't what I was expecting. Although there was closure of sorts, I felt myself feeling a little incomplete, as though the story was not completed yet. I suppose that's how good stories end- they leave you wanting more, and do not give out all the details; it is up to your own imagination and curiosity to fill in the blanks.
So all in all, despite people saying that it's not as good as the Harry Potter series (and yes, I do think that it's not as good) I do think that it is a good read nonetheless. It's a different kind of story, but you can still see the style of J.K Rowling in it all.